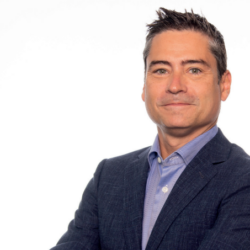 Leo Moreno
Chief Executive Officer Solarpack
Leo Moreno is the Chief Executive Officer of Solarpack. He leverages his vision and insight about the future of the power industry to collaborate across countries, cultures and markets, improving lives by shaping worldwide energy use. Drawing from his experience managing international businesses and teams, he leads global teams aimed at creating a future where the electric grid is 100% carbon free.
Solarpack is a global renewables company specializing in the development, construction, commercialization, and operation of large-scale renewable projects with a presence in fast-growing markets in Europe, North America, Latin America, Asia, and Africa. Since its foundation in 2005, the company has developed or built on a turnkey or EPC basis power plants that represent a total capacity of 2.5 GW. The company has a project portfolio of 14 GW of projects across 14 countries, and currently operates 51 renewable projects totaling 1.7 GW through its own projects and through asset management service agreements across Europe, Latin America, and Asia. Headquartered in Getxo, Spain, Solarpack has a diversified geographical footprint and employs over 500 people.
Solarpack is majority owned by EQT. EQT is a purpose-driven global investment organization with EUR 119 billion in assets under management, and owns portfolio companies and assets in Europe, Asia-Pacific and the Americas and supports them in achieving sustainable growth, operational excellence, and market leadership.
Previously Leo worked at The AES Corporation (NYSE:AES), a leading power generation and distribution business with operations in four continents and strong focus in the US and Latin America, where he has spent most of his career. Since December 2020, Leo has been President of AES Clean Energy, AES' renewable energy business unit in the US, which has more than 12 GW of contracted solar, wind and energy storage capacity. He previously held other senior roles at AES, including global SVP of Corporate Strategy and Investment, Chief Commercial Officer, and CFO of AES' Europe business unit. Leo spearheaded the company's strategy towards a carbon-free future, with a shift in its business model towards customer-focused sustainable energy solutions, leading or working in projects in more than 20 countries throughout his career. Since becoming President of AES Clean Energy, the business grew from 400 to over 1,300 people, added 8 GW of renewables to its contracted portfolio, becoming the largest seller of clean energy to corporations globally, and expanded its project pipeline from 20 to 50 GW.
Leo also served as Chairman of the Board of the American Clean Power Association, the most important association for renewables in the United States, from 2022 to 2023, served as a director of AES Brasil Energia S.A. (AESB3:BZ) from 2018 to 2022 and has served as an alternate director of AES Andes S.A. (AESANDES.SN) from 2018 to 2021. Mr. Moreno also worked as a Senior Auditor for Ernst & Young in Brazil from 2003 to 2005.
<< Back